Upon successful registration, setting up has 3 sections:
1. Account Settings – includes both the setup of user profile, purchase of services and subscription details, Email Setting, and managing passwords.
2. Business Settings - involves the setting up of your business ready for lodgment identity.
3. Security Settings – involves 3 sub components: ATO Software Nomination, AUSkey Set Up and additional security settings.
1. Account Settings
Account Settings include My Account, user Profile Setting and Password Setting.
1. My Account

Enables the management of your relationship with GovReports including your credit balances for Pay-Per Lodgment and or subscriptions access as well as purchases of GovReports services, Pay-Per-Lodgment transactions, access to list of all services purchased or not yet purchased to add to your account, billing details and past payments and so forth.
To access to My Account, go to Settings and select My Account



2. Profile Setting

Setting up your profile enables GovReports to identify you on support request and within the system. Your unique email address is set up as your unique GovReports username and billing related matters including reminders and notifications, account and password resets. You can upload your picture or logo for personal identity and professional look to your account. Telephone number and contact details are optional and for us to contact you when in need or return your support enquiries.

To access to Profile Setting, click on Settings, My Account and select My Profile from the left hand menu bar.


To set up or make changes to your Profile Setting, simply fill out the form on profile setting page or at least the mandatory fields. Changes can also be made on each of these fields as required.

From the Dashboard, you can also access to your Profile Setting by clicking on your logo icon box which has your nominated name as account holder. From here, you can see your last access, time and date.

If you cannot see the profile box from the Dashboard, click on Customize icon and ensure that User Profile is ticked to be listed on your Dashboard.




3. Email Setting

GovReports enables users to customize their own email on the application for client email communication directly from GovReports and all its applications including Digital Signature, Interactive Accounts Manager (IAM), and or GovReports My Practice.

To customize your email setting, from the Dashboard, click on Settings, select My Account. From the left hand menu, Email Setting can be selected or via My Account.


Click Edit Email Setting to make changes to your email setting.

Incoming Email
Every time a lodgement is completed, GovReports will issue a receipt with a time and date stamp as your lodgment receipt via ATO. These receipts can then be forwarded to your client as a confirmation that the lodgment has occurred.

To nominate the preferred email for you to receive lodgment receipts, lodgment queue alerts and or error notifications. This nominated email address can be different to that of your email used as your username.

Outgoing Email
Outgoing Email is the preferred email you want to set up when sending out reports, lodgment receipts via email, Digital Signature and or other GovReports applications. This nominated email address can be different from that you already have used as username or Incoming Email. The setting is similar to the setting up of email access via your phone or any other mobile device or applications.

If your nominated outgoing email is via Yahoo or Gmail, then you are only required to enter the passwords use to access your nominated email and the displayed name when people receive your sent emails. This includes paid business or personalized email address via these service providers.

If your nominated outgoing email is a personalized email from any other service providers, you are not only required to enter the passwords and preferred displayed name when people receive your sent emails but also the SMTP details for configuration.

If you do not nominate your preferred emails for Outgoing Emails on Email Setting, by default, it will be sent from GovReports system and using GovReports email. This service will be limited to number of emails you can send out on daily basis. The risks here also will be that your clients or the people you want to send the reports or documents to may not be able to recognize GovReports email identification as a trusted or known source.

Email Signature
You may also want to copy and paste your email signature here to apply when there is an outgoing email.
Once you have entered all the details for email setting, click Submit to save changes.

Note: if you copy and paste your email signature which includes logo and other icons, most often it will come through

Test Outgoing Email Setting to ensure you have entered the correct details and it's working as expected. You will be notified if email testing is successful and the test emails will appear from your nominated email sent and inbox folders.




4. Change Password

Change Password will allow you to reset your password to access to GovReports.




2. Business Settings
Business Setting is required as your identity when lodging reports to the respective reporting government agencies.
To access Business Settings, go to Settings, select Settings, My Account and select My Business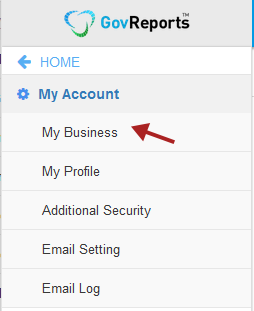 To edit details on Business Setting, Click Edit and go direct to the field that you want to change and type over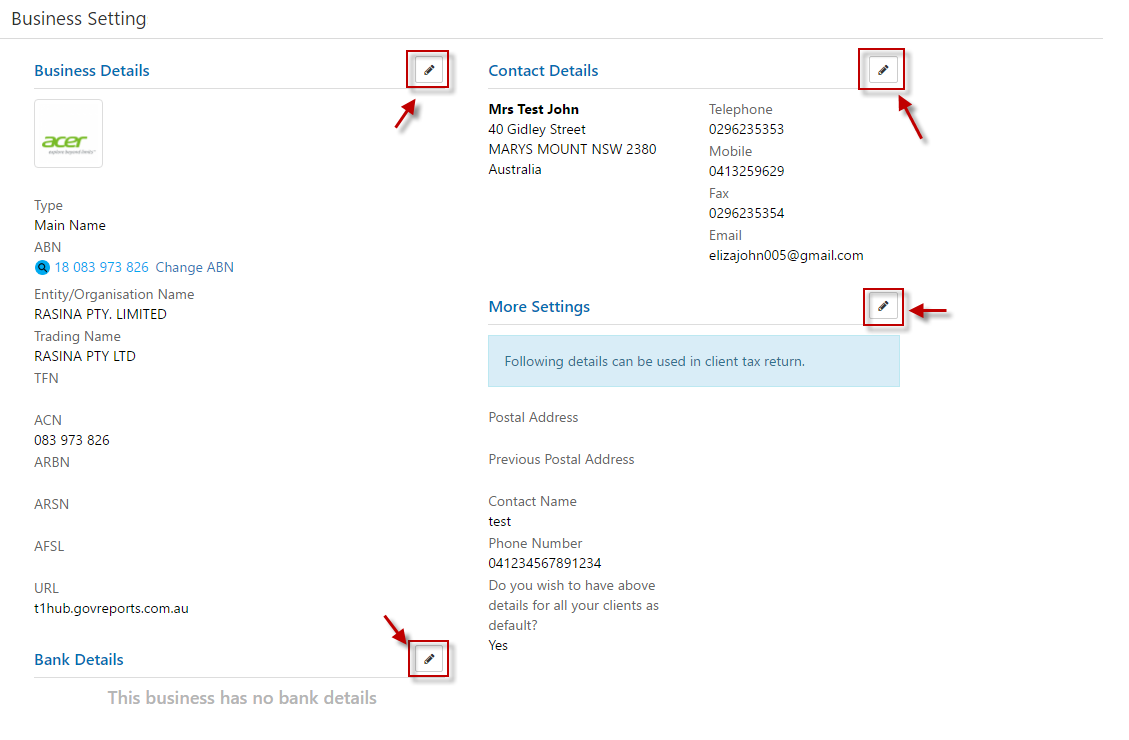 The mandatory fields are highlighted in red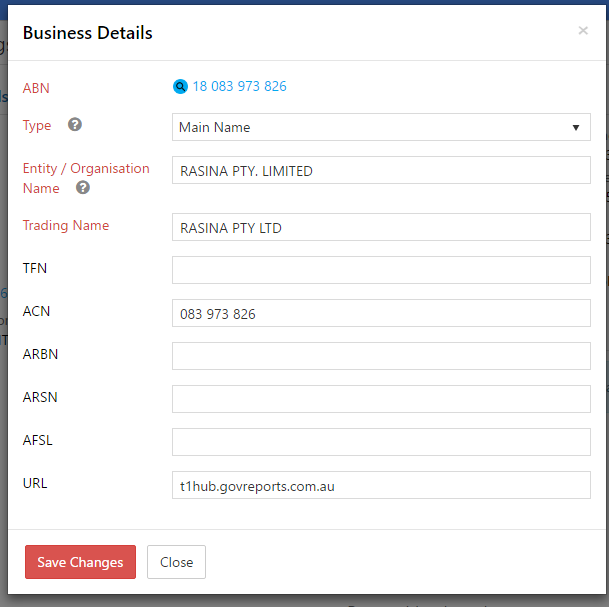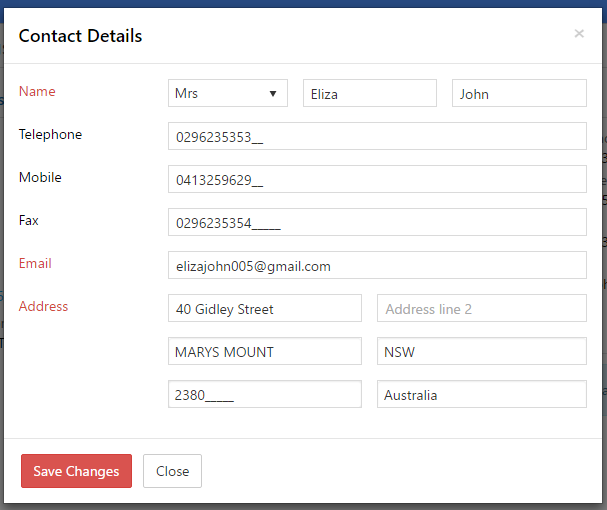 3. ELS Settings
If you subscribe and use GovReports to prepare and lodge Personal and Individual Tax Returns for the financial year 2016 and earlier, you are required to have your account completed with ELS Setting.

To access ELS Setting, click on Lodgment Settings, which will list out all the settings available in GovReports and select ELS Credentials.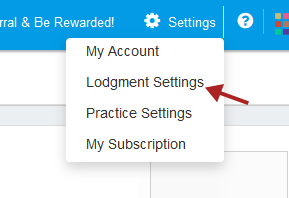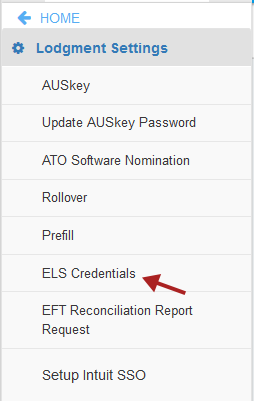 To change or add ELS credentials to your account, Click on Edit



ELS Credentials are issued by the ATO. If you have not got ELS Credentials, you are required to contact ATO to request and apply for ELS Credentials.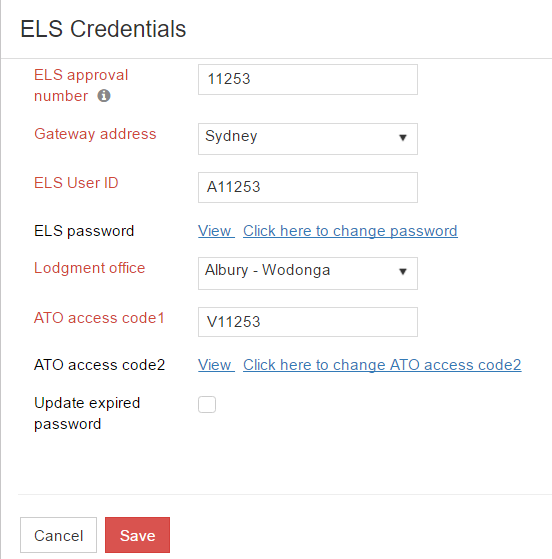 If you have used other tax software previously, your ELS Credentials from these previously used Tax software can also be used on GovReports. Please check details on your previous ELS software access for details and copy across to GovReports.

4. Security Settings
To be able to lodge reports from GovReports to the SBR ready government agencies, either ATO Software Nomination must be completed for ATO related reports lodgment or AUSkey set up for other SBR ready government agencies including all the States and Territories Revenue Offices as well as ASIC.

ATO Software Nomination
The Australian Tax Office has introduced the new method for online identification and authentication when submitting regulatory and compliance reports to tax office via SBR enabled software.

To use SBR enabled & cloud based software such as GovReports to communicate and submit forms, Tax payers, Tax and or BAS agents are required to nominate the SBR software service provider with tax office. This means AUSkey is no longer required for upload or update for ATO only reporting and lodgment from GovReports.

There are 3 essential procedures required to nominate SBR software service provider with ATO

1. Generate and copy GovReports Software ID Number post registration
2. Go to ATO either via Portal or telephone and complete the nomination process
3. Activate GovReports Software Nomination
To Nominate GovReports as your software service provider, go to Settings, select ATO Software Nomination then click

Software ID to get the software ID number. The software ID number generated from GovReports is unique to each and every subscriber entity.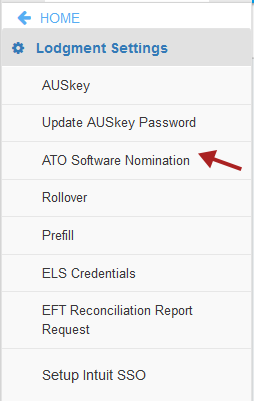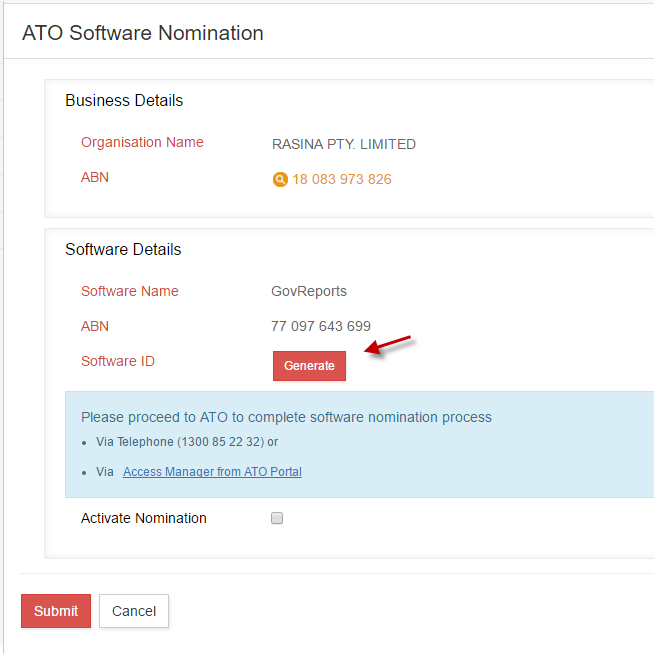 ATO's SBR Software Service Provider Nomination process can be done by either:
a. Calling ATO on 1300 85 22 32 and advise ATO customer service staff that you are required to complete the software nomination process. You will be asked to confirm business details including ABN, contact details for verification.
b. DIY option via ATO portal by logging in to Access Manager, select My hosted SBR software services and follow the process to nominate GovReports
Nominate GovReports using ATO Access Manager
Step 1: Login to the ATO's Access Manager.
Step 2: Select your AUSkey credentials and enter AUSkey Password.
Step 3: Select My hosted SBR software services (left column side).


Step 4: Nominate GovReports as your software service provider by clicking on Notify the ATO of your hosted service.


Step 5: To nominate GovReports, use the online software provider search facility to retrieve their details then use the click ABN to select GovReports.


Step 6: Enter the Software ID provided to you by GovReports.


Step 7: Read the declaration and confirm by clicking Save on the right hand side.

You will be prompted with the following message to complete the nomination process with ATO.


When Software Nomination process is completed from the ATO, return to GovReports application on the ATO Nomination page earlier to tick Activate Nomination and confirm by clicking on Submit for GovReports to synchronize and connect your account with ATO as part of the authentication going forward when you prepare and lodge reports.

You will be prompted with the following message if it was done correctly.

If you are going to call the ATO to nominate GovReports instead of going to ATO Access Manager, you will need to have your business details ready including ABN and contact details and GovReports Software ID number that was generated from the application.